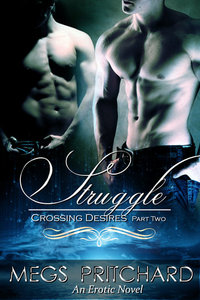 Struggle
Crossing Desires Part Two
After his encounter with Will, Tony was left more confused than ever. He'd never expected to experience the sensations, the pleasure that Will had brought out in him and it had excited, but confused him.
After every encounter, Tony was left more disturbed at the level of arousal that Will could create in his body. The emotional conflict Tony faced, wanting to continue and wanting to run away were tearing him apart.
Just when Tony thought he could handle and accept his attraction to a man and finally move their relationship forward, a man from his past threatens to destroy the fragile trust Tony is developing.
Will their burgeoning relationship survive and continue, or will the shadows of his past prove too much for Tony?
And Will?
Will he fight for Tony or will he walk away?
Is Tony too much trouble or a man worth waiting for?
Amazon UK: http://amzn.to/2doXNgU
Amazon US: http://amzn.to/2csPtMQ
Amazon Can:  http://amzn.to/2deWxcA
Amazon Aus:  http://amzn.to/2cMhmO4